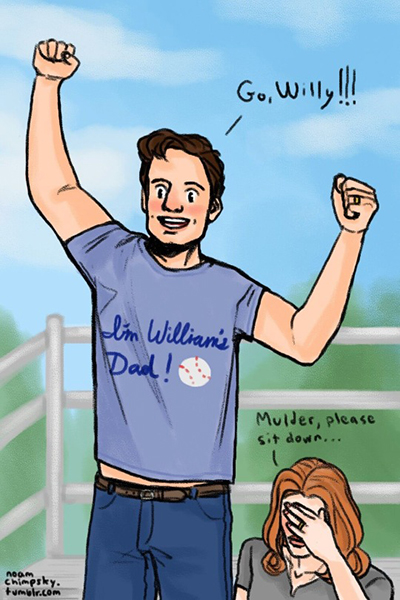 It's FanArt Wednesday again! This week's chosen artist is Rose Kratchman from Washington D.C. She is currently attending university in Wisconsin. You can connect with her on Instagram and Tumblr. You can also visit her redbubble shop.
Keep reading below for more about Rose.
When did you become an X-Phile?
I first started watching The X-Files in the summer of 2015. I was really late to the game but because of Netflix's binge-watch capability I quickly became obsessed.
What is the first episode you watched?
The first episode I watched was the pilot!
What is your favorite part of the revival?
My favorite part of the revival was finally being able to experience The X-Files live on television.
What inspired you to create X-Files fanart?
I've always been invested in fanart, ever since I was a kid and first started to draw people. Basically as soon as I started watching The X-Files I began doodling Mulder and Scully on scrap pieces of paper. Then as I kept watching the show and became totally hooked, I was determined to get better at drawing them. Now I can doodle them from memory which I think is pretty cool!
Who is your favorite character?
Mulder and Scully are tied for my favorite characters. I can't imagine one without the other - to me they really are a package deal. (I'd rather just forget the episodes where they're not together).
List your top 5 episodes.
Ah okay I'm always so back and forth about this but:
1. "Bad Blood"
2. "Pusher"
3. "Clyde Bruckman's Final Repose"
4. "Ice"
5. "Paper Hearts"
Favorite X-Files quote?
"You have access to these bees?"
How has The X-Files impacted your life?
The X-Files lead me to make some really awesome online friends (some of whom I even got to meet in person at Chicago Comic Con) and it's been a great way to garner a larger following of my artwork in general, which is really cool. It's been a pretty wild ride since getting into this fandom and I'm so grateful for all the friends I've made and for all the support I've received for my artwork. It's made me a very happy artist :-) Plus Mulder and Scully are so beautiful I could never get sick of drawing them.
Thanks, Rose! Stay tuned for a new FanWorks writer next week.