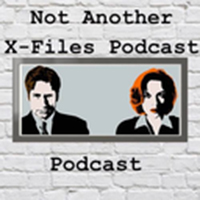 As we get closer and closer to six brand new episodes of The X-Files, what better time than now to get reacquainted with the older episodes? Many of you have been following along with our rewatch on Twitter, but if you want to get more in-depth, podcasts are a great way to expand your knowledge.
We at XFN have a blast participating in X-Philes Talk X-Files but there are many others out there to choose from. One of our favorites is Not Another X-Files Podcast Podcast. I spoke with creators Vanessa, Carolyn, and Amanda from Vancouver, Canada, about how their podcast came to be. Find out more after the jump.
What inspired you to start doing the podcast?
"We were all in the same social circle, and Amanda had asked Carolyn if she had wanted to start a podcast. Carolyn suggested an X-Files podcast because Amanda had never seen it. There is a running joke that she knows nothing of the 90's – we call her Amanda Snow. Vanessa piped up and said she loves The X-Files and wanted to be a guest. After Carolyn and Amanda had done a few episodes, Vanessa ended up being a guest, and Amanda and Carolyn decided they wanted her to be a regular host. The rest is history!"

Had you all been friends before, or was the podcast what brought you together?
"We all knew one another through a nerd community here in Vancouver. We've become a lot closer through doing the podcast, which is really great."
What makes you different than other X-Files podcasts out there?
"We are... more ridiculous. But in the best way possible. There are other great X-Files podcasts out there (Carolyn and Vanessa are fans of a few of them) but they are a little more serious than we are. When we get together, even when we're not recording, we joke and laugh a lot. That definitely comes through when we are recording. We are just having fun with it. We all have some kind of performance background, whether it's singing, music, acting, or improv, and we definitely use that in the podcast. Improv is a regular segment for us, and we often burst into song randomly."
Are you all long-time Philes or are any of you watching for the first time? What got you into The X-Files?

"Carolyn and Vanessa have been watching since they were in middle school. They are both long-term and hard core Philes. Amanda is a Baby-Phile whom they are leading through the Mulder and Scully journey."
What can fans expect from each episode? Do you have a particular formula you use or do you just 'shoot from the hip' each time?

"We do change up the format slightly every time and shift focus depending on main themes of each episode. All three of us enjoy diving deep into science and social issues that The X-Files writers bring up. We also do have regular segments such as: fashion, technology, around Vancouver, "intern of the week," and our fan favourite, the "Shipping Report.""
You shared lots of awesome photos from the Revival shoot in Vancouver, anything you would like to share about that experience?
"We actually have a *whole episode* about it! You can find it here. But in general, we were really excited to see a big budget production being filmed. It was amazing seeing Gillian Anderson and David Duchovny in person, and meeting Chris Carter. In general, it was fascinating to see what they were doing production wise. Vanessa has done some film in the past, and even directed a short film in university, so she found that aspect of it really exciting. Carolyn was also captivated by the production process as she enjoys working with her family on amateur films and has even won awards for some of her work. We had a lot of fun watching them set up the shots and chatting with the Production Assistants and Extras. Seeing Gillian Anderson laugh and joke on set was like a dream come true. She's a true professional. Anyways, the bonus episode tells about our whole crazy adventure. It was so much fun, and despite being cold, sore, and sleep deprived it was worth it!"
Vanessa, Carolyn, and Amanda also told me they hope listeners will feel like they're hanging out with friends who like to laugh and joke but they have a serious side too. They enjoy analyzing aspects of the show and hope you'll find the podcast entertaining and insightful.
New episodes come out on Thursdays, check out the most recent episode on "Excelsis Dei" here. 
Listeners can find the show on iTunes, PodBay, PocketCast, and many others.
And be sure and check out their website, notanotherxfpod.com