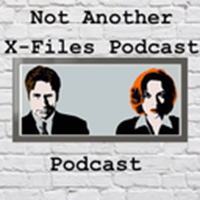 Now that we've had time to digest not one but two brand new episodes of The X-Files, why not relive the awesome with a few podcasts! The crew from Not Another X-Files Podcast Podcast has two new episodes to share. First they've invited actor Artin John, who has a role in the revival's 4th episode, to break down "My Struggle" and dish about Mulder and Scully being back. Then in the second episode hosts Vanessa, Amanda and Carolyn are joined by long-time Phile Lindsay to chat about "Founder's Mutation." The phrase "what's going on? Scully looks hot and there's blood all over the screen?" may make an appearance.
Check out the "My Struggle" episode here and "Founder's Mutation" here and both are also found on iTunes, Podbay, PocketCast, or others.
Want to know more about the team behind this podcast? Check out our interview here.