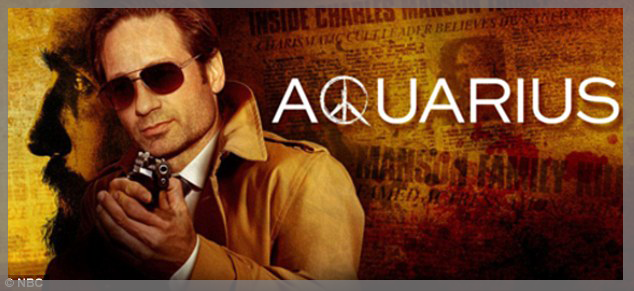 Excitement is building for David Duchovny's new show, Aquarius, which is currently filming in Los Angeles. On Monday, ITV Global screened the pilot to buyers at MIPCOM, an international marketing event for buying, selling, and distributing entertainment content. Aquarius, one of the most talked about dramas at this year's market in Cannes, is set to air on NBC in early 2015.
 
Set in the late 1960s, Aquarius stars David Duchovny as L.A. Police Sergeant Sam Hodiak who partners with undercover cop Brian Shafe (Grey Damon, Friday Night Lights) to investigate the disappearance of a respected lawyer's teen daughter. When the case becomes connected to small-time cult leader turned infamous, Charles Manson (Gethin Anthony, Game of Thrones), Sam and Brian must follow Manson down the rabbit hole in the midst of a cultural revolution.
 
With the wildly successful and dark Hannibal, Aquarius may have found its perfect home in NBC. The network, which picked up a 13-episode straight to series order for Aquarius, is poised to push the envelope with the kind of risk-taking shows normally reserved for the cable networks.
Aquarius is produced by ITV Studios America and Marty Adelstein Productions. Executive Producers include John McNamara (Prime Suspect, In Plain Site), Marty Adelstein (Prison Break), David Duchovny (Californication, The X-Files), and Melanie Greene (Californication).
For more on Aquarius, including an interview with show-runner John McNamara, head over to The Hollywood Reporter!