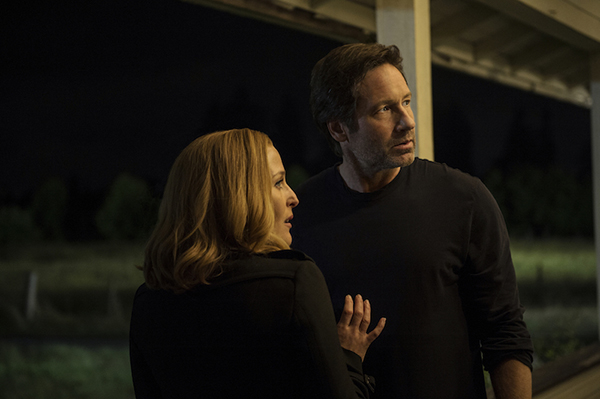 The numbers are out there. Way out there. Philes have been fighting to bring Mulder and Scully back since 2008 and you've turned out to watch in a big way. Sunday's premiere of "My Struggle" drew 16.19 million viewers. In the demographic of adults ages 18-49, the episode had a rating of 6.1 and a share of 19. That means 6.1 percent of all households with a television were tuned into the episode. The share means that of the households that were actually watching TV at the time the episode aired, 19 percent were tuned to The X-Files. Episodes following a major sports event usually get a big bump so high numbers were expected, but these are excellent. For comparison, when the original series finale "The Truth" aired in 2002, 13.25 million viewers tuned in, with a rating of 7.5.
But what about episode two? "Founder's Mutation" is a better test of interest, without the football game to boost numbers. Well we passed with flying colors. The X-Files won its broadcast time slot and handily beat shows on ABC, CBS, NBC and The CW. 9.69 million viewers tuned in and the episode received a 3.2 rating and a 10 share. "Founder's Mutation" beat its nearest competitor, an episode of The Bachelor, by nearly 2 million viewers.
It's fair to say we're off to a great start, but the numbers matter so keep tuning in. Better yet, watch the episodes on different platforms if you can. Broadcast and DVR numbers are big players, but things like iTunes purchases and views on other platforms like Hulu, FOX NOW, and On Demand all show how engaged viewers are. Social media engagement helps too, so keep tweeting with #thexfiles and our episode hashtags like #WereMonster for next week's epsiode. If you want Season 11, show them how much you love Season 10 first!