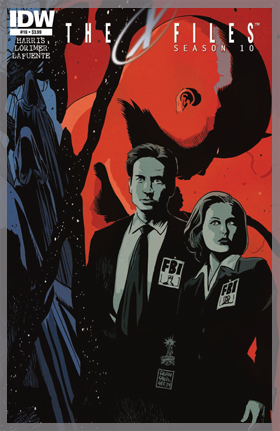 Another month and a brand new story comes with The X-Files: Season 10! Joe Harris and the team at IDW bring us a MOTW issue that delves into the supernatural with a tinge of religious lore that promises to scare your pants off.
For the full synopsis and our commentary, click on Read More.
Immaculate is this month's issue of The X-Files: Season 10. After the previous mytharc five-parter, Harris begins a brand new story about Joanie Cartwright, a mysterious teen that crosses a picket line to enter an abortion clinic in Murphysville, North Carolina. Everything seems pretty standard to the situation, until we witness that she's being led by voices and we discover that she has smuggled in a homemade bomb. Surprisingly, she walks out of the explosion, unscathed, much to the awe of the stunned people outside the clinic, and Joanie summons the protesters to follow them… Whoever them might be.
Mulder and Scully are called in to investigate and upon review of the surveillance video, they discover that there's a mysterious presence registered in the images. They also learn that Joanie had been to the clinic before for another abortion, a month prior to the incident. She is recognized by the receptionist who has survived the attack. The agents have to investigate carefully, as AD Morales advises that after the events in Saudi Arabia, the X-Files are under close scrutiny… but when are they not?
When Mulder and Scully interview the surviving receptionist, she assures them that Joanie had been taken there before by Daniel, her boyfriend, and that she could guide them to him. She seems very affected by the events, even showing a similar mental state to Joanie's.
Scully and Mulder then split up to investigate further. Scully tackles the deeply religious Mrs. Cartwright, who has been at the local church praying for her daughter's sins… but also has blinded herself because of the shame and pain that Joanie's actions have caused.
There, Scully meets Alvin Johns, the pastor of the congregation, who clarifies that he has helped look after the Cartwrights since the father died a few years back. He explains that the community is very religious, God-fearing people, but as much as he has strived to do good, the evil forces and sinners are relentless, and so they've been trying to find "reconciliation".
Meanwhile, Mulder is following up on the boyfriend, Daniel Hernandez. He goes into his RV, and starts to look around, finding Satanic paraphernalia, when Daniel walks in on him and proceeds to try to escape. Mulder follows right behind, aided by some town folk, who seem to have taken their eyesight, just like Mrs. Cartwright.
In the interrogation room, Daniel claims that he doesn't know anything about the explosives used to blow up the abortion clinic. Mulder tries to get a confession out of him; he claims that Joanie wasn't ready to have a baby, that she had a way to her, but that contrary to popular belief, she was no angel and she was the one that made him take her to have the abortion. Joanie had changed.
Scully sustains that no biological or psychological reasoning explains Joanie's behavior, and that there could be an involvement of an evil entity involved. Maybe Joanie is not talking to God afterall.
Inside the interrogation room, Daniel has taken a pen and stabbed his eyes, blinding himself. Meanwhile, in town, Joanie has led a group of followers to their death in what seems to be a bloody clash between protesters.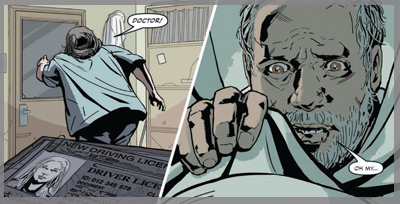 The X-Files: Season 10 #16 - "Immaculate" Part 1 was written by Joe Harris, with art by Colin Lorimer and colors by Joana Lafuente. Letters are by Neil Uyetake, edited by Denton J. Tipton and executive produced, as always, by Chris Carter.
Story wise, this is a classic X-File, reminiscent of episodes such as All Souls, very creepy and dark, with a nice pace and swift twists and turns. It serves as yet another nice opportunity to play in this universe. The truth behind the case remains in the dark for this first part, and it's a case that touches Scully' sensitivities because of its religious undertones.
While it doesn't touch upon her demons with her own child and her stance on religion, I wonder if it will in the second part. It could be something worth reflecting upon since she's a mother herself, even when it's not a Mytharc story.
Joanie's storyline is dark enough to be puzzling as to what her objective is, or that of the entities behind her "possession", and how far the threat goes when the town seems to be involved on a larger scale. The possibilities are broad and daunting, considering that the repercussions of her actions seem to escalate with each event. There are a number of interesting questions to be answered, including how did her pregnancy and abortion trigger the events unfolding.
The art and colors are very precise in this issue; I appreciate the way Lorimer has ventured into portraying the characters, keeping their integrity without sticking to the very naturalistic versions, which gives a lot of flexibility when supporting the characterizations. Lafuente also does a great job supporting the montage of multiple timelines playing throughout, carrying the moods effectively and adding to the texture of the story.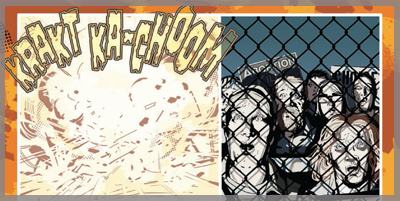 I hardly, if ever, talk about the letters in these issues, but this one is worth mentioning. Neil Uyetake does a great job accentuating the story, tone and effects without going over the top or overusing certain resources. The moments where he strayed from the standard were needed and welcomed, and never felt gimmicky.
The covers for this month were created by Francesco Francavilla and Menton3, with an additional photo cover for the subscription issue. If I were to pick a winner, I think Menton3's is the most effective to me, though I wouldn't include it in my list of all time favorites, then again this a very personal taste.
I'm really looking forward to next issue and as always I recommend you pick up The X-Files: Season 10 from your local comic book store and subscribe to ensure you get all the goodies! You can also access electronically via Comixology and don't forget to leave feedback at This email address is being protected from spambots. You need JavaScript enabled to view it.