In continuation of the celebration of Dana Scully's 50th year, here is our next featured artist participating in the heART for Charity and X-Philanthropy auctions benefiting SA-YES. Jes Leigh has two watercolor pieces that will go up for auction in the coming weeks. You can find all of Jes' work on her DeviantArt page. 
Her pieces, entitled "UneXplained Phenomena" and "Physiologically Gratifying", will be available for bidding in Rounds 1 (February 19th-23rd) and 2 (February 26th - March 3rd) on heART's eBay. Currently being auctioned are various X-Files items signed by Gillian Anderson. Head over to X-Philanthropy's eBay page to check them out. 
To learn about Jes and what inspires her artwork, click read more to view our interview with her. 

XFN: In a nutshell - tell us what inspires you as an artist. Who are your favorite artists?
Jes: Other artists and their works. Anything that I can see and feel emotion from. Seeing what I want or need to from within the art of others makes it into something personal. I guess that's why I create, to put my work out into the world with the hope of someone bringing it down on their side and that it'll mean something to them. Therefore continuing a cycle of inspiration.
My favourite artists differ a lot, as I learn more about what inspires me. Georges Seurat, Degas, an art group called Faile. And then some people I either know in real life or have found on tumblr: Silvia Pelissero, Julia Kaethner and Delfina Aversa.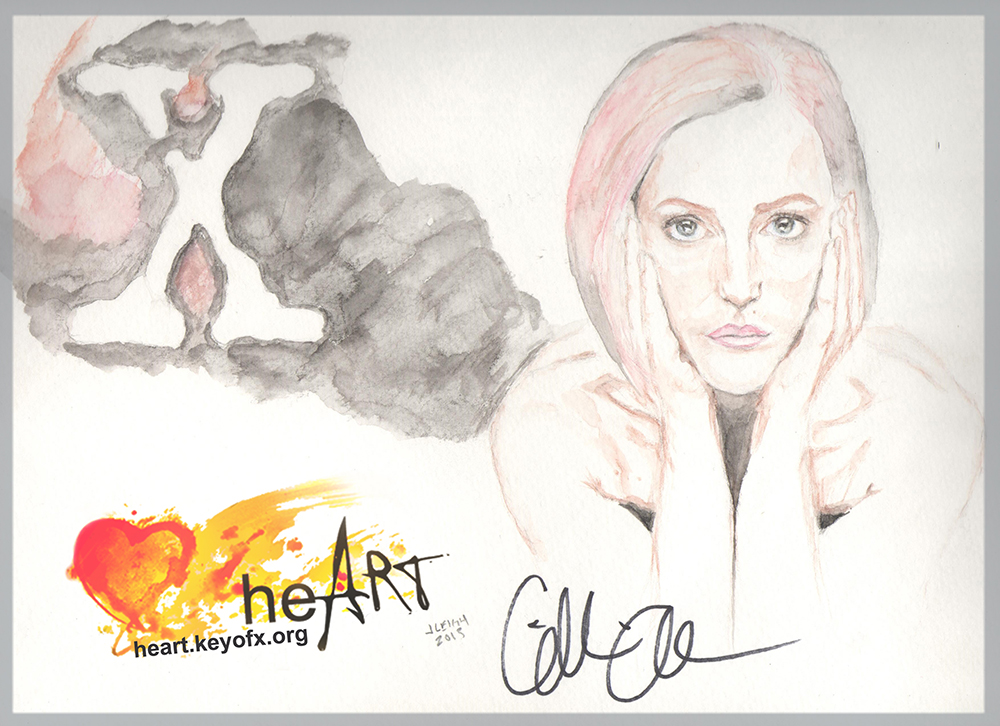 XFN: What type of materials/means and styles are your favorites? Water colors? Pencils? Photoshop? Tell us a little about your creation process.
Jes: I work mostly in water colour and pencils. I try other things every so often, but I keep coming back to those. It usually takes me longer to figure out what I'm going to create than it does to create it. I really like to do portraits or something that is based off of a quote. I'm still trying to learn how to do art for myself rather than as gifts. 
XFN: What motivated you to create these particular works of art?
Jes: I wanted to do something old and new. A new fandom meets the old fandom. For the older one, I wanted something minimalistic with colours that were throughout the whole piece. That connected with The X-Files and that time period without being a recreation of scene or a still from the show.
For the newer one, I really wanted to do something based off the twitter posts of Bryan Fuller, who liked to place flower crowns on the cast of Hannibal. We all waited for Gillian to appear and when she did, the caption along with it was psychologically gratifying, which I found wonderful.
XFN: As a fan of Gillian Anderson's work and most likely an X-Files fan, what part of her work has been life changing to you?
Jes: As an aspiring actor, Gillian Anderson's work as a whole has always been inspiring. She changed the way that I looked at acting. I think that happened for me somewhere between finding The House of Mirth and re-watching The X-Files. She always creates something so remarkable and humanises her characters in such a beautiful way. Her work embodies inspiration. Along with the fact that she has this wonderful way of having quotes that I think everyone can draw from and can help you out of whatever negative situation you're in. I know that she's helped me in that way.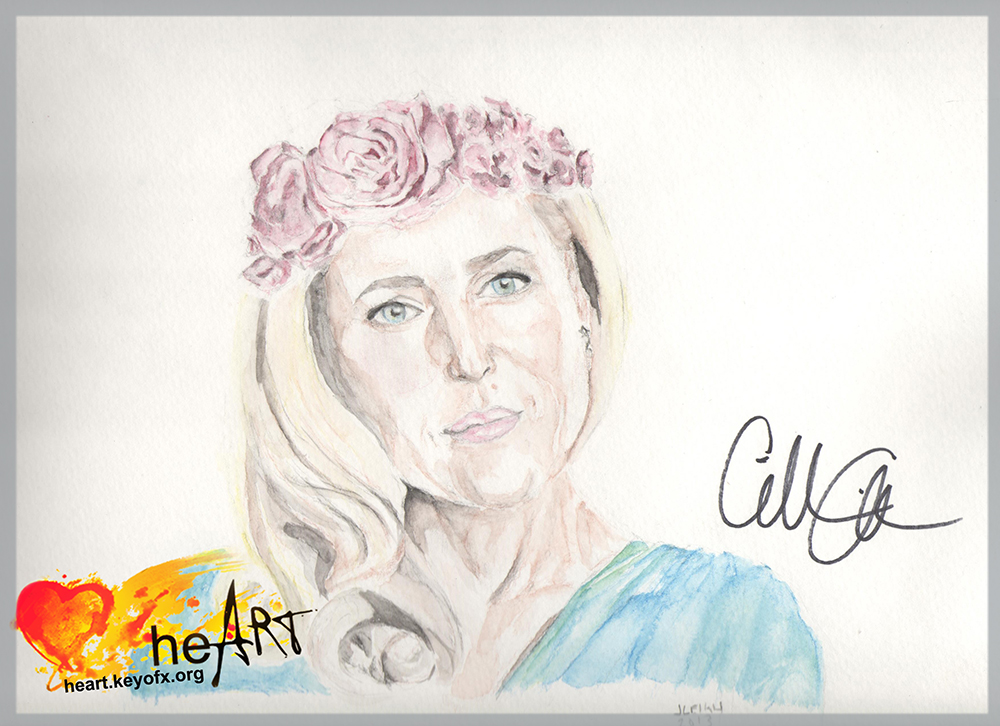 XFN: What strikes you as the most important thing that SA-YES does for people?
Jes: One of the things I most love about SA-YES is that it doesn't just help them with their future and sort of throw ideas out on how things will or can get better; they help them on a emotional level for where they're at right now. I think that's really important because you can always tell someone it will get better, but where they're at now, they're still struggling emotionally and mentally and need a way out of the darkness that can build up inside.
XFN: Scully turns fifty this year; she was a female character that many follow as an example, mainly because in one way or another she is a beacon that questioned the world around her. How do you think that you as an individual can help change and improve the world around you?
Jes: To work to inspire. And instill in others that they are enough. 
XFN will be featuring more heART contributers as the auctions near, so be sure to check back to learn more about the people behind some of this fantastic artwork. In the meantime, be sure to follow heART for Charity on Facebook and Twitter.