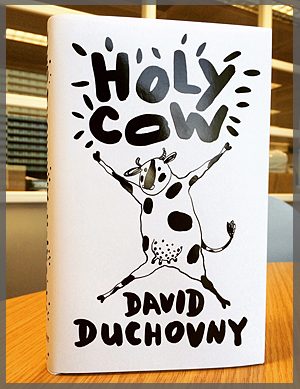 Next Tuesday sees the release of David Duchovny's debut novel Holy Cow. To celebrate, the lovely folks over at Headline have offered us three hardback copies signed by David himself to give away. Read after the jump to find out how to win one.
Want to win a signed copy of David Duchovny's forthcoming book Holy Cow? Simply answer the following question:
Holy Cow tells the story of Elsie (a cow), Shalom (a pig), and Tom (a turkey). To win we want you to give us the titles of three X-Files episodes:
1. An episode featuring cows
2. An episode featuring pigs
3. An episode featuring turkey!
Think you know the truth? Send your answers to: This email address is being protected from spambots. You need JavaScript enabled to view it. - January 30th, 11.59PM PST is the deadline and the contest is open worldwide. Winners will be announced here on Monday, February 2nd along with our review of Holy Cow.
Until then don't forget you can watch David talk about the book, listen to him read the first chapter aloud, or visit the official Holy Cow Facebook page.
Read Holy Cow's official blurb below:
Elsie Bovary is a cow and a pretty happy one at that. Until one night, Elsie sneaks out of the pasture and finds herself drawn to the farmhouse. Through the window, she sees the farmer's family gathered around a bright Box God - and what the Box God reveals about something called an 'industrial meat farm' shakes Elsie's understanding of her world to its core.
The only solution? To escape to a better, safer world. And so a motley crew is formed: Elsie; Shalom, a grumpy pig who's recently converted to Judaism; and Tom, a suave turkey who can't fly, but can work an iPhone with his beak. Toting stolen passports and slapdash human disguises, they head for the airport ...
Elsie is a wise-cracking, slyly witty narrator; Tom dispenses psychiatric advice in a fake German accent; and Shalom ends up unexpectedly uniting Israelis and Palestinians. David Duchovny's charismatic creatures point the way toward a mutual understanding and acceptance the world desperately needs.