We're just 19 days away from the season premiere of The X-Files on January 3rd, and FOX has shared yet another look at what we can expect to see. Gillian Anderson says that she thinks this season feels more like the "quintessential" X-Files of years past, while David Duchovny says they were better set up to get back to the partnership and the banter we all know and love. Mitch Pileggi offers a hint of what may be in store for AD Skinner as well when he shows off his bloodied hands. We hear from creator Chris Carter as well about the versatility of storytelling within the X-Files universe. Watch the full promo and then dive into the investigation with us.
Many of the clips we've seen before but some of the scenes are longer and a few new peeks are shared, including a few images from what is likely the Skinner-centric episode.
We learned in November that Haley Joel Osment had been cast in an episode and this appears to be him here. 
Mulder and Scully's run through the cemetery was indeed in search of Langly's tombstone. The Lone Gunmen were buried in Arlington National Cemetery in Season 9's "Jump the Shark."
Remember when David posted this behind-the-scenes photo? It's even funnier to see Mulder in action in that suit. Maybe you have to dress like Bigfoot to catch him? This is part of Darin Morgan's episode, which is the fourth in the season and is called "The Lost Art of Forehead Sweat." With a smile like that on Mulder's face, here's hoping it's Scully on the other end of the line.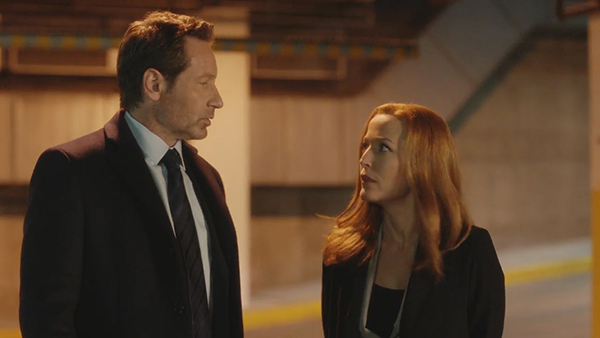 The partnership back in action, doing what they do best. Together. At this point I would watch them do nothing but gaze at each other for an hour but watching their investigative skills will be just fine too.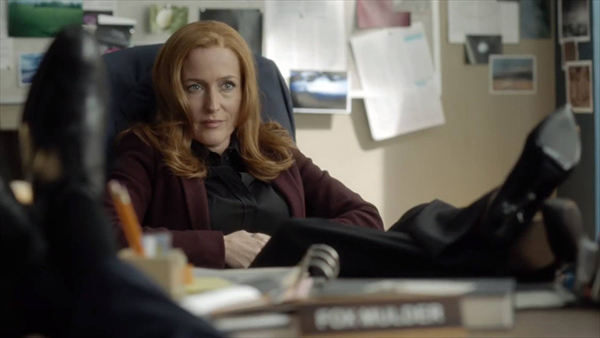 TVLine
pointed out they thought Scully has a desk this time around, but we believe the shot they're referring to is this one, which pretty clearly shows Mulder's nameplate on the desk on which Scully's feet are placed. Feel free to let us know if you spotted something different! 
There are plenty of other little details to find, check them out in the screenshots. 
{gallery}galleries/Expect_Promo{/gallery}