Most of us only know Alison Groves as the one behind the window of the Big Light Social Network (BLSN). She's the bearer of gifts and the bringer of news. Most regard her as our SN mother, and Alison is just that. Early this year Big Light Productions impregnated Alison with an idea that gestated like an alien for months until on May 19, 2008 when Alison give birth to a success! Now with 743 members, her first-born has grown and begun to take its own steps, but not without her guidance. Alison is there to nurture, and at times, cover its mouth.
As an expert Big Light loiterer and all-around Alison admirer, I stopped by her drive-thru in an attempt to get to know the brain behind the Big Light social network. Tasty?
Tell us a little about yourself.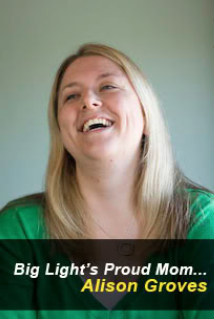 I grew up in Houston, Texas and moved to Nashville 11 years ago to attend Belmont University. I graduated in '01 with a degree in Music Business and Marketing and spent most of my time here working in the music business for various record labels as well as a stint as a personal assistant for a country music
How did you come upon The X-Files?
I don't remember why, but for some reason I ended up watching​​ the first run of "Requiem". From then on I was totally hooked. I remember renting VHS tapes of the show to catch up from the Tower Records next to my apartment. Yup, VHS tapes.
Favorite episodes?
"Redux II" is my favorite episode of all time. I also love "Jose Chung", "Wetwired", "Field Trip", "Roadrunners", "Beyond the Sea", "Dod Kalm", and "X-Cops".
What's it like working for Big Light?
Being even a minor part of the Big Light family has been an amazing experience. You couldn't ask for two nicer people to work for. What I've loved is just getting to know everyone and watching you guys do your own thing. The enthusiasm of Philes has been my favorite experience for sure.
Tell us what a typical work day is like for you.
I'm up at 7am every morning, where I spend roughly an hour working from home going through emails and other various content, then I'm off to my day job at web marking firm Sitening. I spend the days writing for our various clients, while keeping an eye on Big Light to see what people are up to. Then as long as I don't have any post work meetings to go to (I'm a board member of two tech groups here in town), I'll head home, go for a jog, grab some dinner and then it is back to the laptop until midnight or so. I'm trying to cut back on some of that now, but easier said than done.
What is your greatest achievement to date?
The first big project I ever worked on was Lee Ann Womack's 2005 album "There's More Where That Came From". I spent months working on the album from a business standpoint and it was chosen as a top 10 album of the year in all genres in Entertainment Weekly, Time Magazine, and various other papers around the country. I'm very proud of that.
What do you look forward to working on next?
I'm really looking forward to seeing what Big Light has going on next. I've also got another movie project I'm starting on Monday, as well as several new clients I'm writing for.
---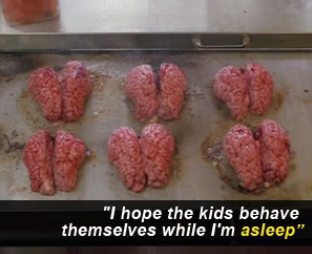 We served Alison up with our Quick 10...
1. First thing you think of when you wake up in the morning
"I wonder where my iPhone is, and how many emails I got overnight".
2. Favorite Word
Um, I have a few, and they aren't very ladylike.
3. Addictions
The laptop for sure. I have 2 of them, and just swap them out as they run out of power. I also am guilty of drinking cup after cup of coffee. I've gone decaf in the last year so that it doesn't kill me.
4. Dream job
I'd love to be a professional baseball stadium traveler, but since that job doesn't exist, I'm pretty content for working for such an amazing company.
5. Favorite bands
I could go on and on, but since you don't want to be up all night reading this, I'll keep it simple. I love Sigur Ros, Radiohead, The Decemberists, Sufjan Stevens, The Features, Muse, Elbow, Guillemots, and Jump Little Children.
6. What is most important in life?
Taking a deep breath. I forget to do that, and it is so important to just step away from things and not forget to enjoy life.
7. Favorite foods
I'm a true Texan, so I'm a meat and potatoes gal. Hamburgers, steak, burritos, etc.
8. "I wish I had invented ______."
The personal computer. Think about how that single invention has pretty much singlehandedly changed the world as we know it.
9. Favorite websites
I honestly don't have any. I spend 14ish hours a day reading the web that there is no time for favorites. Just work.
10. Last thing you think about before turning off the computer
"I hope the kids behave themselves while I'm asleep" :)
Last but not least, how was your first "The X-Files : I Want To Believe" viewing experience? Any favorite scenes?
I took a friend of mine to a midnight showing in Nashville. The theater was a little sparse, but you could tell everyone there was a true fan. My favorite scenes are all of the big Mulder and Scully scenes, mainly because for me it was just so amazingly refreshing to see an adult couple portrayed so, well, adult on screen. How often do we see that? I'm a bit of a Scully-ist too, so it was nice to see Scully get a meaty storyline, and of course Gillian kicked it in the ass.
A HUGETASTICAL Thank you to XFN and especially Big Light's Fearless Leader herself, Alison Groves.